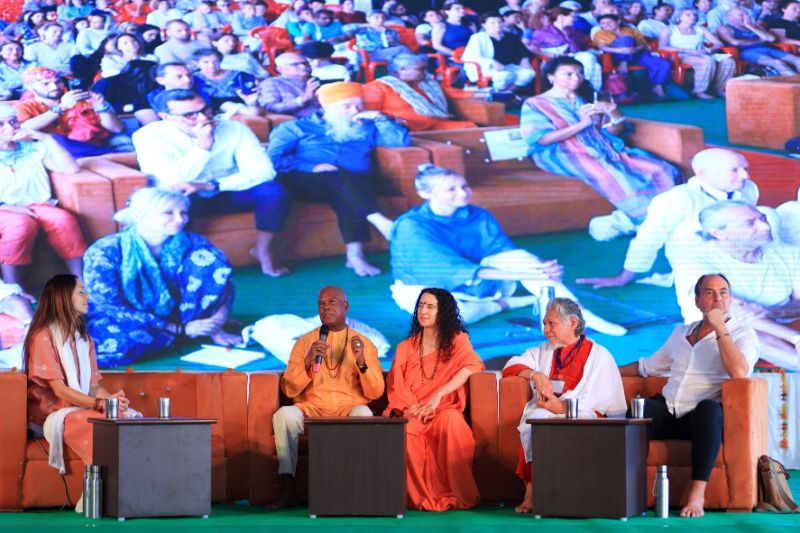 Hon'ble Union Minister of AYUSH Sarbananda Sonowal joins us for Day 3 of International Yoga festival (IYF) at Parmarth Niketan, Rishikesh, just two days before the 100 day countdown to the International Day of Yoga 2023
A highlight of Day 3 was a Special Plenary session on Yoga and Mother Earth with Sadhvi Bhagawati Saraswati, Rev. Michael Beckwith, Abuelo Antonio Oxté and Saul David Raye
Third day was another beautiful day filled with Yoga Sessions from as early as 4:30 am from Kundalini Sadhana, to Naad Yoga, sessions on Ayurveda, Iyengar Yoga, Self-Love, Vedic Wisdom and more, with sacred yagya, evening Ganga Aarti and cultural performances til 9pm filled the participants' day with diverse offerings. 
Today's special cultural performances included Malakambh demonstration, presentations by Gujarati folk dance troupe Nrityavali from Ahmedabad, special Yoga demonstration and performances by Parmarth Gurukul Rishikumars as well as school children from Divine Shakti Foundation's schools.
RISHIKESH: Hon'ble Union Minister of AYUSH Shri Sarbananda Sonowal was warmly welcomed by HH Pujya Swami Chidanand Saraswatiji and Pujya Sadhvi Bhagawati Saraswatiji for the 3rd day of the International Yoga Festival at Parmarth Niketan, Rishikesh today to address and share his message to IYF Presenters and Participants from many different nations from across the world. IYF is organized by Parmarth Niketan, Rishikesh with the support of Incredible India, Ministry of Tourism, in association with Ministry of Culture and Ministry of AYUSH, Government of India, inspired by HH Pujya Swami Chidanand Saraswatiji and Pujya Sadhvi Bhagawati Saraswatiji welcomed home Yoga Presenters and Participants from nearly 90 nations in a special G20 themed Festival.
Hon'ble Union Minister of AYUSH Sarbananda Sonowal shared:"Yoga is not merely an exercise; it is a way of life to attain physical, mental and spiritual well being. The whole world is embracing yoga and transitioning to a more holistic way of life. Yoga has been identified as an effective therapeutic intervention for a variety of common ailments and lifestyle diseases. It seeks to bring harmony and happiness across all levels of our existence, from the body, breath, mind, spirit, etc, and unite them in harmony. Yoga is a unique soft power of India and it is our responsibility to spread this science to every corner of the globe. I am confident that under HH Pujya Swami Chidanand Saraswatiji's leadership the International Yoga Festival at Parmarth Niketan will be memorable experience for all the stakeholder"
HH Pujya Swami Chidanand Saraswatiji shared, "It is a matter of great pride that our nation and the world has leaders like our Hon'ble Prime Minister of India Shri Narendra Modiji who with his visionary leadership had gotten the United Nations to give their unanimous support to the declaration of the International Day of Yoga. This has exponentially increased the awareness and enthusiasm for Yoga worldwide. Today as we get ready to mark the 100 day countdown to the International Day of Yoga it is wonderful to have our Hon'ble Union AYUSH Minister Shri Sarbananda Sonowalji join us to be part of the 35th annual International Yoga Festival."
Sadhvi Bhagawati ji, Director of the International Yoga Festival shared that, "In this post covid Era, where everything can be taught and learned online from the comfort of one's own home, the fact we have even more participants coming after the pandemic than before shows that what people are looking for is not only teaching, but they are looking for touch and the transformation that is only possible in this holy and sacred land, they are looking for that divine touch from Ganga, from the Himalayas from that sacred energy of the sages, Saints, Rishis and Yogis. In this sacred land every day is Yoga Day and Yoga is truly for all of humanity."
They performed the world-renowned Ganga Aarti together, enjoyed special Yoga demonstrations of Mallakhamba which is a traditional yogic sport, originating from India, in which a gymnast performs aerial yoga or gymnastic postures and wrestling grips in concert with a vertical stationary or hanging wooden pole, cane, or rope. In an effort to raise awareness about this endangered form of Yoga the Yoga Festival incorporated this demonstration into IYF this year. In addition, a very special Yoga demonstration also took place with Parmarth Gurukul Rishikumars performing group Yoga Asanas on the sacred Ganesh Vandana.
After the Aarti the Hon'ble Minister of AYUSH was blessed with a Sacred Rudraksha Sapling and there was a special pledge to have Yogis and Yoga Practitioners unite for protecting the planet Earth, leading by their actions towards lifestyles for the environment. As Pujya Swamiji shared about the Government's Mission Life and the need for clean air, soil and water in order to have any sort of health and wellness a clarion call to unite for protecting our planet resonated loud and clear.
The Hon'ble Minister said, "Today, I'm amazed, I'm highly touched to be at the International Yoga Festival at Parmarth Niketan. This event can bring the global society together, to the same platform.This is the beauty of yoga, the sense of love and affection to every mankind. The art of yoga is necessary to every mankind to attain the peace and tranquillity of life, not only for ourselves but for others I'm delighted to learn that Parmarth Niketan is hosting more than 90 nations, making the festival truly global. Yoga is not only an exercise, it's a way of life, to attain physical, mental, and spiritual wellbeing. The whole world is embracing yoga and seeking for a more holistic way of life. And yoga has been identified as an effective therapeutic intervention. It brings harmony and happiness across all levels of our existence, from the body, breath, to the mind and spirit. Yoga is the unique soft power of India! And it's our responsibility to spread this science to every corner of the globe. I'm confident that under the leadership of Pujya Swamiji and Sadhviji the IYF will be a memorable experience for all. Parmarth Niketan is not only a yoga school but a life school! People come here to learn how to live healthier, adopting a more holistic and balanced life, and embodying the true essence of yoga."
***************************************
Special Plenary Session Highlights:
Special Spiritual Plenary session on Yoga and Mother Earth: Our Precious Home was conducted by Pujya Sadhviji Bhagawati Saraswati, Director of International Yoga Festival, Rev. Michel Beckwith author, and founder and spiritual director of the Agape International Spiritual Center in Beverly Hills, California, Abuelo Antonio Oxté, indigenous elder and a Shaman, Saul David Raye a spiritual activist and Kia Miller – Founder of Radiant Body Yoga the moderator speaking on Karma Yoga and the need for conscious action to live in harmony with Mother Nature.
Some of the highlights from this session were:
Pujya Sadhviji beautifully reminds all the participants "You are an inextricable part of the creation, which includes you responding in whatever way your role unfolds us to what is existing here. If we stop engaging in action perfection is no longer perfect. So, it's critical to remember, every one of us is a perfect part of the perfection of the divine."
Michael Beckwith empowered the attendees by saying "Our role is to be pulled by something that is invigorating us, that gives us a tremendous amount of energy, a vision of what is possible and then we can become instruments of articulating the realm of infinite possibilities." "We don't wanna be upset at the cocoon, but we wanna serve the butterfly." "Every problem is a question trying to ask itself. Every question is an answer trying to reveal itself. And every answer is an action of a way of life trying to birth itself."
Abuelo beautifully added "No matter the obstacles of life, we need to flow. So, when we know that we are Mother Earth, we need to love and respect ourselves, to take care of our divine temple, in order to be in peace and harmony. We need consciousness that we are oneness, and share what mother earth is giving us. Respect the others with our presence, clean the house, clean the words, the mind and the intentions. Practice charity as an action of love"
The Participant Erica Kaufman from America said "Just listened to the spiritual talk by Sadhvi ji, Antonio and others, Feeling so connected to the vibrational energy and mother earth. Sadhvi ji invited us back to mother earth and sustenance as per Bhagavad Gita. So pleased to celebrate my birthday at this international Yoga Festival and I invite you all to be a part of this wonderful spiritual experience"
The participant Silvia from Italy said "Loved this session, listened to all the purpose of what we are doing here. It's our Dharma in action and the love for mother Earth. Got to know so much insights and also that we are not gonna save the current system but the emerging one. Focus on saving the mother earth rather than on corporations making profits."
DAY 3 SCHEDULE Highlights:
At the break of dawn, participants geared up for day 3 of the International Yoga Festival with a packed schedule of meditation, yoga and divine music. The morning classes included Ira Trivedi, celebrated author and Yoga Acharya who is the founder of Yog Love and Namami Yoga, had a session on 'Yoga Raaga' at the famous Parmarth Yoga Ghat, "Dance of Prana" by Rohini Manohar of Chennai Yoga Studio, Gurushabd Singh Khalsa's Kundalini Sadhana class, Stewart Gilchrist's class was titled "Yoga Vrksa – The Roots of Yama" and it described how The Yamas, one of the 'Eight Limbs of Yoga' are primarily concerned with the world around us and our interaction with it. Parmarth's very own Dr. Indu Sharma conducted a much-requested session on Pranayama & Mudra Yoga.
After a light and nutritious breakfast, Sri H.S Arun of Bangalore, conducted a masterclass on how Fold Yoga stimulates the liver and kidneys while enhancing digestion and calms the mind in his session titled "Unfold the Fold". Kal Prakashini & Yogrishi Vishvketu of the Akhanda Yoga Institute, explained to the participants through their session on "Ancient Tools of Yoga", how weaving ancient practices of yoga and ayurveda with modern day yoga offerings can improve one's technique. Next, the session "Access the Flow State" was taken up by Anand Mehrotra, founder of Sattva Yoga School. Tommy Rosen, Founder of Recovery 2.0, taught  a "Full Body Tune up" session. A powerful Kundalini Yoga class with the theme of "TRUTH shall set you Free" was led by world renowned Kundalini yoga teacher, Gurmukh Kaur Khalsa of USA. Dipika Delmenico founder of The Radiant Woman wellness programs and a Anthroposophic Naturopathic Practitioner, Nada Yoga expert demonstrated how nutrition and health play a vital role in ayurveda through the session "Metabolic Bliss: The Sound of Ayurveda".
Following lunch, a demonstration of the unique traditions and culture of tribes, Nrityavali's workshop on "Timli Dance – Tribal Dance form Panchmahal, Gujarat " shed light on the rich and varied art forms of the tribal folk in Gujarat. Swami Svatmanandaji in his session titled "Vedic Astrology: Significance of Vedic Cosmic Clock in Our Lives" talked about how a person's karma is directly related to the position of the planets and stars and how Vedic astrology is rooted in the Vedas and is India's ancient system of knowledge. María Alejandra Avcharian of Uruguay is an Ayurvedic Medicine Therapist and Plastic Artist. She shed light on how Meditation is a wonderful, evidence-based tool for healing anxiety. Participants had the opportunity to learn "How to Manage Anxiety through Ayurveda" thanks to her masterclass. "Vasudeva Kutumbakam " emphasizes that the World is one family. The concept of Nonduality lies along the same axis. Dr. Andréa Paige an expert of lifestyle medicine and founder of the Holistic Health Coach Training Program. In her session titled 'Embodied Nonduality: The Nervous System as the Gateway to Self-Mastery' she explained how it refers to the nature of existence consisting of one interconnected whole, rather than many separate things cobbled together. Participants had the opportunity to interact with Indigenous leader and Shaman Abuelo Antonio Oxte of Mexico who is Cultural President of the Unión Hispanomunial de Escritores y Poetas (UHE) in his session on "Awareness" at the Yoga Ghat.
Gumi & Hiroko of Japan, enchanted the participants with their divine and mesmerizing music performance and linked music with yoga at the session called "Krsna's Flute: Indian Rāga Sound Healing Meditation".  Dr. Smita Naram led a beautiful healing session called "Ancient Marma Secrets to Heal Childhood Trauma and Chronic Pain Instantly", which was followed by Andrea Carrani's session on "Learn How to Love Yourself Unconditionally". Jai Hari Singh led the second continuous session today on "Wake Up Your Consciousness II" and Krishnapriya a certified sacred sound, nada yoga teacher, intuitive, channel and Reiki master led a concluded the session for the day with a beautiful " Maha Mrtyunjaya Mantra workshop"
Before Sunset H.H. Pujya Swami Chidanand Saraswati ji and Pujya Sadhvi Bhagawati warmly welcomed the Hon'ble Union Minister of AYUSH, Shri Sarbananda Sonowal Ji for the divine and Sacred Ganga Aarti on the ghats of Parmarth Niketan Ashram which was followed by a beautiful cultural performance with Mallakumbha, Indian Dance with Nrityavali and the beautiful Parmarth Gurukul Rishikumars; Followed by marking the beautiful end of Day 3 of the International Yoga festival.
****************** Quote from Participants for IYF********************
Jonathan from the UK beautifully quotes "Such a fulfilling experience I had here, got to know about the unbelievable deep truths. This yogic city, Rishikesh and its environment, in front of the river Ganga is full of the energy, vibrations and frequencies that the world needs right now. It's not something new but it makes us remember about what we are and what we need to do."