2018年インターナショナルヨガフェスティバルについて
Lukas

(Copenhagen, Denmark)

"As a total beginner to mindfulness the International Yoga Festival is proving to be a perfect way to sample lots of yoga and meditation styles."
"The Yoga Festival has been a perfect reason to finally come home to India."
Peter

(Ljubania, Slovenia)

"As a new yoga teacher it's amazing to listen and learn from so many great teachers, and especially in such a divine location."
Jenny

(Brighton, United Kingdom)

"I am opening my mind in the foothills of the Himalayas with so many great people, in such a beautiful place. It's wonderful."
"I come to Parmarth Niketan to International Yoga Festival every year to recharge my batteries and to find my center again."
"The teachings are so deep, the atmosphere is beautifully light and the people are so open. The International Yoga Festival is more than I can ask for from any yoga event."
Elisabeth

(Amaliada, Greece)

"The interesting blend of Indian and Western approaches to yoga is so refreshing. The International Yoga Festival is both serious and fun simultaneously."
"I AM SO GLAD I HAVE COME. I am the Croatian ambassador for a yoga initiation program for children. I have to come to here to see all these gifted global teachers and to learn from them."
"Practicing Kundalini with such amazing instructors on the Ganges with this diverse community has been an incredible experience."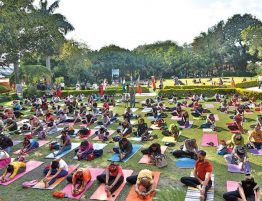 So glad to have Conde Nast Traveller highlight our International Yoga Festival as the first…